The writing process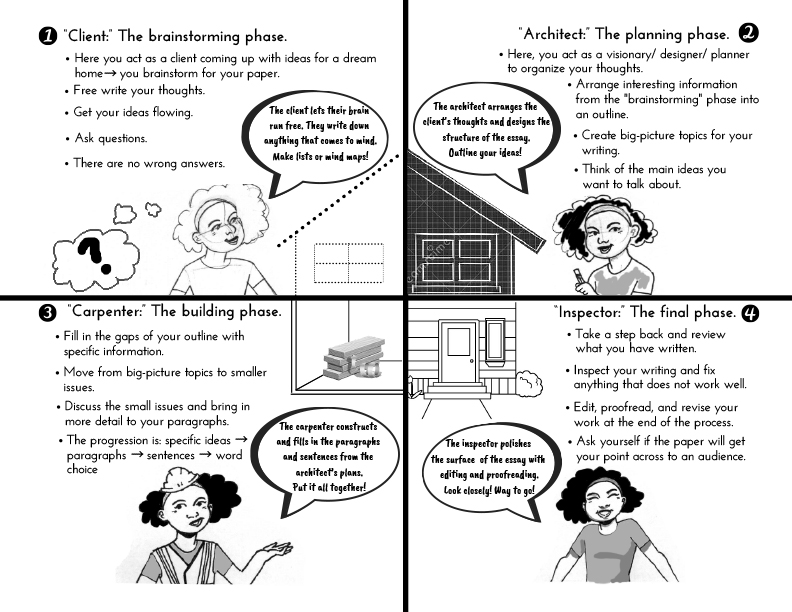 1. Client: The brainstorming phase
The client lets their brain run free. They write down anything that comes to mind. Make lists or mind maps!
Here you act as a client coming up with ideas for a dream home → you brainstorm for your paper.
Free write your thoughts.
Get your ideas flowing.
Ask questions.
There are no wrong answers.
2. Architect: The planning phase
The architect arranges the client's thoughts and designs the structure of the essay. Outline your ideas!
Here, you act as a visionary/designer/planner to organize your thoughts.
Arrange interesting information from the "brainstorming" phase into an outline.
Create big-picture topics for your writing.
Think of the main ideas you want to talk about.
3. Carpenter: The building phase
The carpenter constructs and fills in the paragraphs and sentences from the architect's plans. Put it all together!
Fill in the gaps of your outline with specific information.
Move from big-picture topics to smaller issues.
Discuss the small issues and bring in more detail to your paragraphs.
The progression is: specific ideas → paragraphs → sentences → word choice.
4. Inspector: The final phase
The inspector polishes the surface of the essay with editing and proofreading. Look closely! Way to go!
Take a step back and review what you have written.
Inspect your writing and fix anything that does not work well.
Edit, proofread, and revise your work at the end of the process.
Ask yourself if the paper will get your point across to an audience.